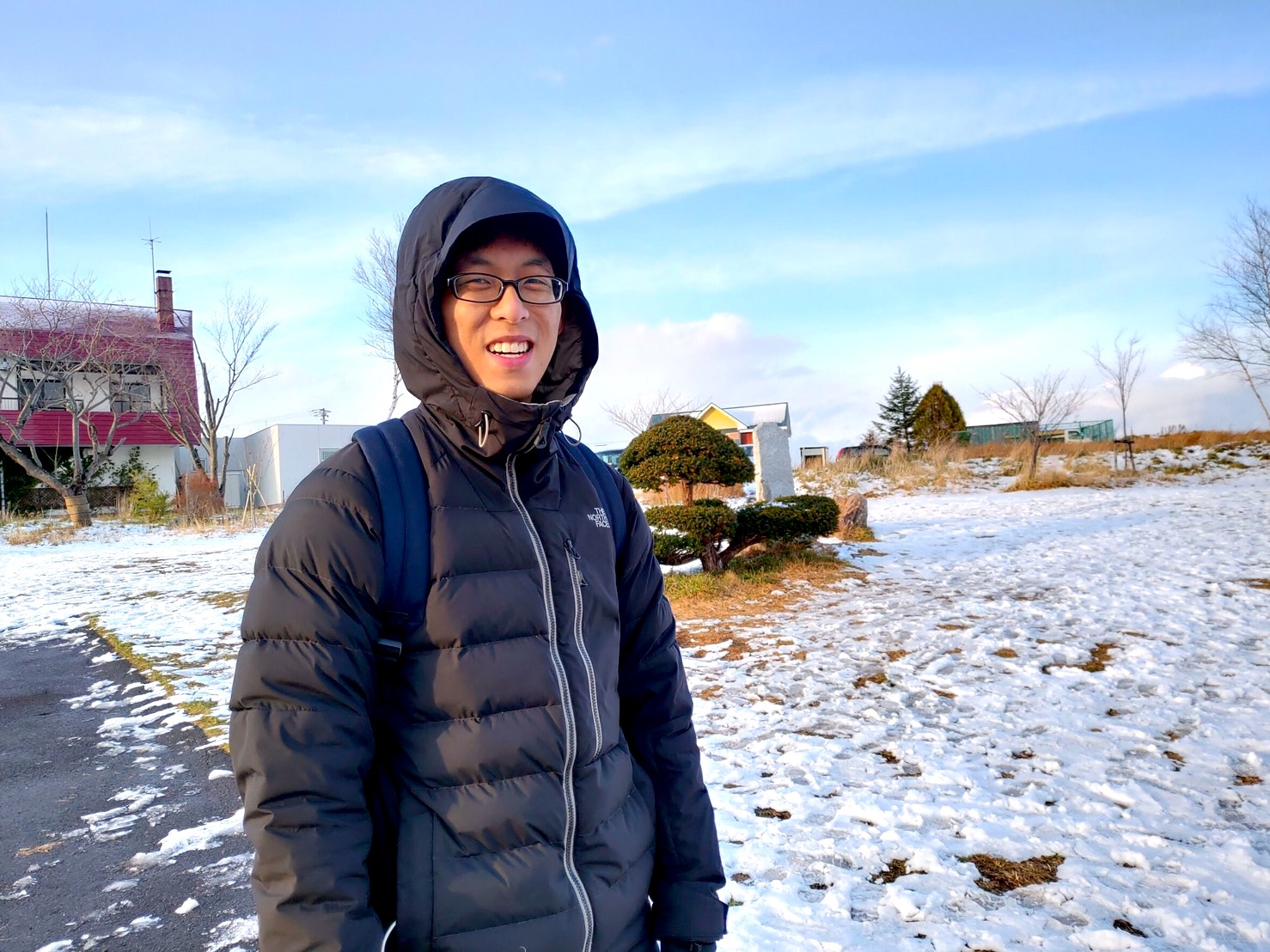 "I love skiing. My favorite place at the moment is Hokkaido. I am fascinated by the snow covered winter scenery!"
This time, tabiko would like to introduce our travel concierge, Tim. He is originally from Taipei, but now studies in Tokyo, and had recently join the tabiko team. He loves to travel around to not only try new foods, but also to meet new, unique people. He hopes to get a better understanding of the local spots in Tokyo, and share his own personal opinion after trying all these spots!
Although currently living in Tokyo, Tim makes sure to travel to other cities abroad and around Japan. He previously backpacked around Hokkaido, Nagoya, Shirakawa, Hakone, Kusatsu, etc. He said, "I have been to Sapporo, Hakodate, Asahikawa, and other places. I really loved the winter scenery with snow covering everywhere."
After traveling through Hokkaido, Tim realized that the area is quite big. It's very inconvenient for travelers as you most likely need a car. However, if you do your homework in advance, you can research the right public transportation modes such as the JR Lines or buses. And if you're planning to enjoy an onsen, your hotel might offer a free shuttle to and from Sapporo!
For Tim, the most impressive experience in Hokkaido was the first time he saw a blizzard while in Sapporo. During that time, he was sitting in Shiroi Koibito (White Lovers) Park. After only an hour, the park was covered in snow and instantly became a winter wonderland! Tim also recommends visiting Asahikawa for its beauty and quaint vibes. You can enjoy the beautiful mountain scenery but also spend a few days relaxing in the quiet town. As a travel expert, Tim advises to always look at your train information during snow season, as it can always change if a blizzard or some snow incident happens.
Coming from Taiwan, Tim fell in love with skiing instantly. There are no ski resorts in Taiwan, so after coming to Japan, Tim was drawn to places with lots of snow. For him, skiing is a strange, yet exciting experience. "Although I fell down many times in the beginning, I was able to become a true ski expert after practicing many times. It's so fun!" he stated.
Tim has been to Niigata, Gala Yuzawa and Yamagata Zao Ski Resorts. If you will be in the Kanto area, Tim recommends visiting Niigata to ski. It's only about 1 hour to get there from the city, and by shinkansen it is quite convenient.
If you love to ski, or need advice, Tim is a great concierge to ask! But he has also done a lot of research on food. Since joining tabiko, Tim has helped a user arrange a special birthday cake surprise in a users hotel room. He said, "I really felt validated and excited for the user. It was great to be a part of the special arrangement and I am happy that I got to experience it as well."