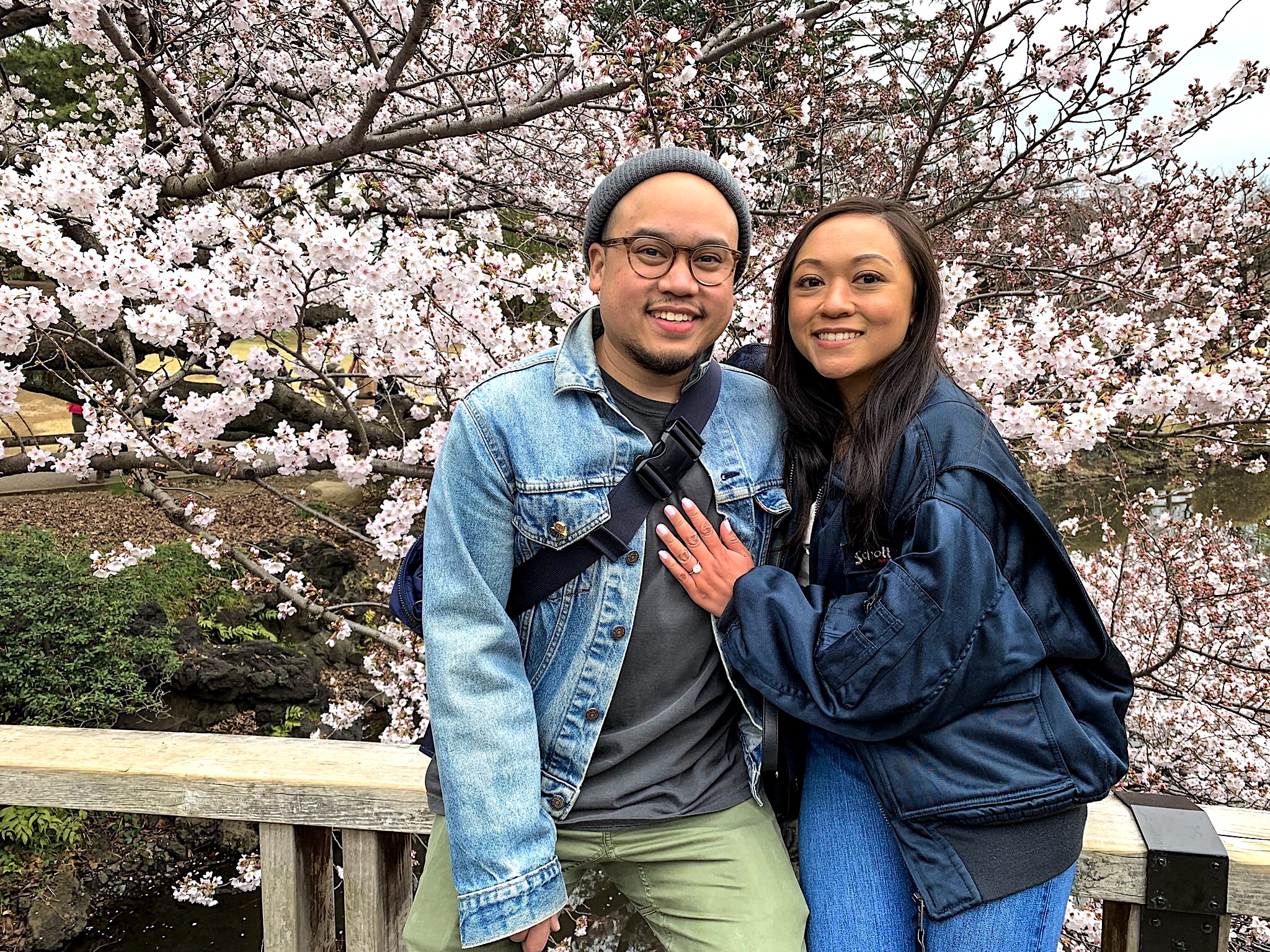 I knew I was going to propose sometime this year. Then I thought it was probably a good time to propose during my Japan trip.
While tabiko can help you make a reservation, we also help with various other travel questions as well! Lex initially learned about tabiko last year as he was looking for a way to book a restaurant in Japan for his first trip to the country. Naturally, he searched on the internet and found that someone mentioned using tabiko in a trip advisor page. He asked the tabiko concierge at the time to help him make a reservation, and the rest is history!
Although there are many other booking sites to download and use, Lex prefers tabiko for the easy user interface, friendly concierges, and overall simplicity of the app. Immediately after downloading tabiko last year, Lex noticed how easy the app was to use. He said, "it's just like texting a friend." Since he now lives in San Francisco, he uses tabiko mainly for help on his Japan trips. But he also got other advice about other places to travel as well after chatting with our concierges.  
Since his first trip, Lex has traveled to Japan one more time (this past April) and has used tabiko to help him plan his itinerary, book restaurants, and most recently asked for suggestions on perfect proposal spots around Tokyo. At the start of 2019, Lex knew he would propose to his longtime girlfriend, Janella. He just didn't know exactly when or where it would happen! As their plans to go to Japan during sakura season were finalized, he knew it would be the perfect time and place to propose. Lex consulted with our concierge, Mika, for the best proposal spots in Tokyo. Funny enough, she was one of the only people he consulted with during the planning process! Mika suggested many different spots such as Minato Mirai, Odaiba Ferris Wheel, a fancy restaurant, and even a chapel. After some conversation and a lot of thought, he decided on the perfect destination.
Since they planned to travel to other cities, Lex didn't want to lose the ring and planned to propose at the start of their trip. On the second day of their trip, Lex took Janella and his co-worker to Shinjuku Gyoen. Of all the options, he thought it was the most organic and easiest location to do a great proposal. While Lex and his co-worker knew of the plan, Janella simply thought this was another day on the trip. While walking through the park, they stopped for a couple picture together at one of the benches under the sakura in full bloom. They casually posed for a picture, and Lex pulled out the ring! And as many of you have already guessed, she said yes! Although Shinjuku Gyoen is quite crowded, especially during sakura season, Lex found the perfect place where they could enjoy the moment together. The onlookers waiting for the bench quietly cheered and clapped, but let Lex and Janella enjoy the moment. It was truly a day to remember for the both of them!
Lex and Janella also visited Kyoto and Osaka after Tokyo during this trip. They ate great food, saw the beautiful sakura, and went back home engaged! While there are no wedding plans set, they hope to have a destination wedding. Congrats to you both!